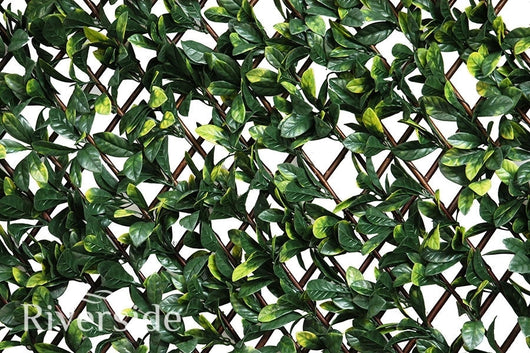 Artificial Hedging, Laurel Leaf Trellis, 100cm x 200cm
Regular price €99.00 €79.00 Sale
Panel Size 100cm x 200cm
Our Laurel Leaf Artificial Trellis Panel is available as a 100cm x 200cm extendable hedge on a willow trellis backround.
This High Quality Artificial Screen Panel is so realistic it looks like the real thing and is ideal to provide optimum privacy in gardens, balconies, swimming pools and terraces, and the perfect solution to cover over that unsightly wall or fence.
It is supplied in flexible easy to install panels which can be attached to any solid surface (even curved) with minimum effort. For example it can be attached to a wall with screws or masonary nails or by cable ties to trellis.
It can also can be easily trimmed to create a natural effect or to fit into awkward or curved spaces.
It is ideal for areas of limited sunlight or rainfall where real plants might not survive.
The PE leaf is carefully designed to replicate the original leaf in terms of style, shape and colour and so creates a very realistic solution to brighten up an otherwise dull and dreary wall surface.
Our Artificial Hedge Panels are fully weatherproof and UV stable meaning it will stand up to the elements and remain looking good for many years, unlike inferior products which historically fade and lose their shape after only twelve months.
A fantastic DIY product so easy to fit, each panel is butted up and clicked to cover the area required.
No more hedge trimming or watering.
It comes with a 5 year UV stable guarantee.